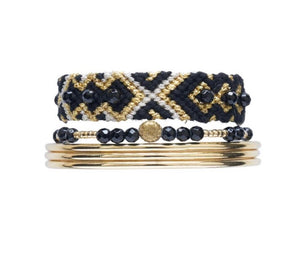 SUN MOON RAIN BANGLE & FRIENDSHIP SET//
Sun Moon Rain is a collection of hand crafted Positive Energy and Healing Bracelets. The combine modern design with the power and purity of Precious and Semi-Precious stones and crystals.
The belief in gem stones and their powers dates back to ancient times- They have been featured among the Egyptians, Mayans, Greeks, Chines, Japanese and Indians and were donned by Pharaohs, Kings, and Queens and even priests who drew from their strength.
They continue to this day to harmonize and Heal, protect and energize, whether physically, Mentally, Emotionally or Spiritually.