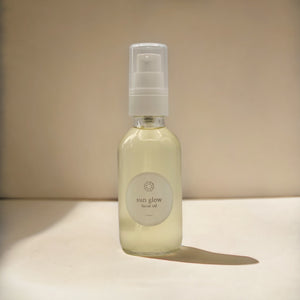 Our sun glow facial oil is a great addition to your skincare routine, providing multiple benefits for healthy, glowing skin. The ingredients are fast-absorbing & suitable for all skin types. 
Moisturizing: These oils contain essential fatty acids and vitamins that can help moisturize the skin and prevent dryness. They can be particularly beneficial for people with dry, dehydrated, or mature skin.
Nourishing: The fatty acids and antioxidants in these oils can help nourish the skin, providing it with essential nutrients for healthy skin. This can help improve the appearance of fine lines and wrinkles, and support overall skin health.
Anti-inflammatory: Borage and lingonberry oils are known for their anti-inflammatory properties, which can help calm and soothe irritated or inflamed skin. This can be particularly helpful for people with sensitive or reactive skin.
Antioxidant: The extracts of Lilly Pilly berry and lingonberry are high in antioxidants, which can help protect the skin from environmental damage and premature aging. These antioxidants can also help brighten the skin & improve its overall appearance.
How to use:
For a full face refresh, use after Sun Glow Facial Scrub. Rub 4-5 drops on face am & pm.
Ingredients:
Oils of Borage, Abyssinian Seed, and Meadow Foam, with extracts of Lilly Pilly Berry, Lingonberry, White Birch Bark, and White Tea, essential oil of Geranium.