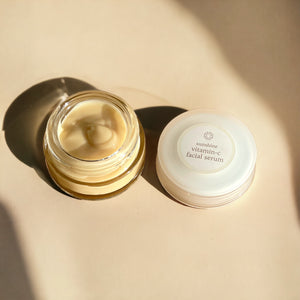 A founder favorite, we can't get enough of our Sunshine Serum! A Vitamin C concentrated facial serum that is gentle, effective, and nourishing. Formulated with nutrient-dense rosehip seed oil, which contains powerful and effective Omega-3 & 6 fatty acids, an additional boost of Vitamin C, Gamma Linoleic Acid, and other essential fatty acids to promote the healthy look of even, bright skin.
Product Highlights:
Formulated to brighten, soothe, hydrate, and replenish the skin with Vitamin C and Vitamin C Ester
Includes antioxidant-rich extracts of Organic Cranberry, Raspberry, and Blueberry
Silky and soft texture and finish
Suitable for all skin types
Superstar Ingredients:
Rosehip Seed Oil
Vitamin C & Vitamin C Ester
Vitamin E
Organic Extracts of Cranberry, Red Raspberry, and Blueberry
Organic Neem Oil
Organic White Willow Bark Extract
How to use: 
Help the skin on your face and neck with this serum every morning and evening after you cleanse and tone. Place a pea-sized amount of Facial Serum onto fingertips. Warm the serum between your hands and spread evenly over your face without pulling down on the skin. Follow with moisturizer.
Ingredients - 67% Organic: Organic Aloe Leaf Juice, Glycerin, Rosehip Seed Oil, Emulsifying Wax, Vitamin C Ester, Vitamin E, Sunflower Seed Oil, Phenoxyethanol, Vitamin C, Organic Cranberry Fruit Extract, Organic Red Raspberry Fruit Extract, Organic Blueberry Fruit Extract, Organic White Willow Bark Extract, Organic Alcohol, Organic Neem Seed Oil, Organic Rosemary Leaf Extract, Organic Sunflower Seed Oil, Tetrasodium Glutamate Diacetate